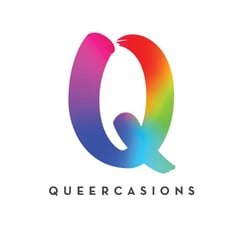 About
Finally it's happened! Marriage quality is a reality in Australia and we are thrilled! During the period of the plebsicite, saw a lot of hurtful and negative things said and done and it definitely came at a cost. Through our own personal experiences, we saw a need for more positive conversations. For us as a community, it is so important to share support and love to those who mean the most to us.
Queercasions was created for love by people who genuinely care about the community. Our purpose is to celebrate being LGBTQI, whilst also providing a platform for stories to be heard and shared.
A huge part of change is to educate and we know that with stories being told and having conversations will take the spotlight off the negativity and encourage acceptance and diversity.
Queercasions is a collaborative project crafted by DUENDE Co_ to provide opportunities for emerging artist and designers. It is hard being a creative and we believe that it is important to support the arts, creative culture and ensuring artists are commissioned for their work. Your purchase of a Queercasion allows for their talent to be showcased, appreciated and known. A leg-up that all creatives need.
We are also striving to continue to support LGBTQI organisations who provide much needed assistance and services to those who may not have access to a supportive network.
For our inaugural launch (17/18), our featured organisation is Minus18. Minus18 is Australia's largest youth-driven network for LGBTQI youth.
"LGBTIQ youth are more visible now than ever before and more and more are coming out. We're the young people at the forefront of this conversation, who live the experiences each and every day.
75% of LGBTI young people in Australia still experience homophobic or transphobic abuse due to their identity.
80% of this abuse occurs at school.
As a result, LGBTI young people are 2x more likely to experience anxiety or depression and 3x more likely to attempt suicide."
Minus18 run social events, workshops and provide resources to support young people on their journey of self-discovery & recognition.
Seeing these cards will bring you joy, but imagine being the person who receives it. We guarantee that it will bring a giggle or a smile to your loved one.