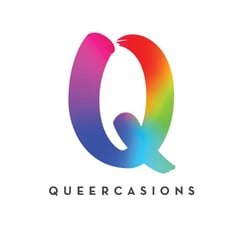 Back to Shop
Beary Homo
$

5.00
(PG) FUNNY CHRISTMAS CARD Artwork By Jessica Quang
This is a funny Christmas card for gay men, or anyone with a sense of humour.
300gsm card
150mm x 105mm folded landscape
Printer in Melbourne, Australia
Packaged in a crystal clear cello bag with white envelope measuring 125x175mm
Please allow two days for delivery, if you require it any sooner please get in touch and we will do our best to meet your deadline.
Single card - $5.00
About the artist:
After a realization that it's unlikely Jess will become a forensic sketch artist as the demand for it has decreased dramatically with the rise of technology, in attempts to remain a creative and artistic individual with superior practical skills that could one day help direct a company into an even more spectacular direction, I took a chance as a once confused 19 year old and decided to head towards the route of trade skills at British Columbia's Institute of Technology and have never looked back since.
I left the school with a Graphic Design Associate's Certificate and a Statement of Completion for Social Media and Digital Marketing. Outside of schooling, for most if not all of my life, I've dedicated myself to learning all I can about the Renaissance, and spent much of my time sharpening up my skills in portraits and both realism and semi-realism. The medium I enjoy using the most are inks and graphite, and I've recently just picked up tattooing and am having lots of fun with fake skin. When it comes to key themes of my art, it really depends on the piece itself as some can just be done for the aesthetics, while others are almost a visual journal entry.
Outside of visual arts, on my free time I enjoy listening to podcasts, watching historical documentaries and attending standup comedy shows featuring either the big names, or just local comedians trying to get a foot into the world of comedy.