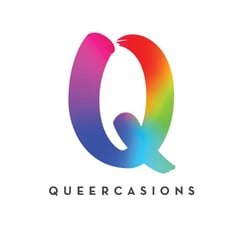 Back to Shop
Gender-Neutral Happily Ever After
$

5.00
(PG) Sweet Wedding Card Artwork by Ludwig Lefroy
A lovely, simple message that we all can now get married and live happily ever after, just like everyone else.
300gsm card
150mm x 105mm folded landscape
Printer in Melbourne, Australia
Packaged in a crystal clear cello bag with white envelope measuring 125x175mm
Please allow two days for delivery, if you require it any sooner please get in touch and we will do our best to meet your deadline.
Single card - $5.00
About the artist:
Ludwig Lefroy is a Martinican artist born in Fort-de-France, now residing in Paris.
Having grown up in homophobic community, he strives to create artwork to educate and shine a light on gender fluidity and its importance in society. Influenced by negative social attitudes to homosexuality in the Caribbean, Ludwig wants to ease all of these tensions through his pure and honest images. He creates art on paper and also in the form of sculptures, purposely removing all inscriptions of gender codes into a refined body based on his imaginings to soothe the universe. Through these sculptures, he wants to share images of sexual identity. A free body interpreted by his posture, his colors, his choices and his history. A simplicity that allows everyone to their own interpretation of sexuality, desire and sensuality.